6.5 mm Benchmark CF 1:7.5 Twist Sendero Lite 18″ Prefit Barrel
$1,275.00 – $1,375.00
Description
Benchmark Carbon Fiber  Barrel chambered in a caliber of your choice
Muzzle Threaded to your order
Plastic thread protector included
Ready to install on your timed action (action is not included)
The breach length after the action face will be 2 1/4″. That includes carbon and some steel. This is applicable for Sendero and Sendero Lite contours.
Contact Benchmark for weight information
Benchmark Barrels uses only the highest quality 416R and 4140R carbon steel in the production of our product. This ensures that our barrel is the finest you can put on your rifle. All barrels are individually double hand lapped to a true consistent bore. The manufacturing process also includes double stress relieving and quality control inspection utilizing proprietary methods along with the most accurate industry techniques available.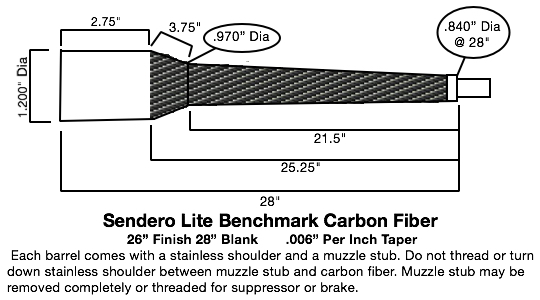 Actions we can prefit to:
Defiance Machine – Tenacity, AN-Ti, AN-Ti X, Ruckus
Impact Precision 737R, NBK
Zermatt Arms – TL3, Origin, SR3
Lone Peak Arms- SS Fuzion SA LPF00341 and up
GA Precision – Tempest
Terminus Zeus with set screws or without, Apollo, Apollo Lite/Ti
Accuracy International – AT-X / AX/ AT – The barrel will be 1/4-3/8″ longer than listed
Kelbly's Atlas Tactical "Flat Bolt Nose", Nanook, Prometheus
Additional information
| | |
| --- | --- |
| Action | Accuracy International – AT-X / AX/ AT, Defiance Machine anTi, Defiance Machine anTi-X, Defiance Machine Ruckus, Defiance Machine Tenacity, GA Precision Tempest, Impact Precision 737, Impact Precision NBK, Kelbly's Atlas Tactical "Flat Bolt Nose", Kelbly's Nanook, Kelbly's Prometheus, LPA Fuzion SS Action s/n LPF00341 and above and FZ numbers, Terminus Apollo, Terminus Apollo Lite/Ti, Terminus Zeus with set screws, Terminus Zeus without set screws, Zermatt Arms Origin, Zermatt Arms SR3, Zermatt Arms TL3 |
| Caliber | 6.5×47 Lapua, 6.5 mm Creedmoor match, 6.5 mm Creedmoor Hornady saami, 260 Remington, 6.5 mm SAUM, 6.5 PRC |
| Muzzle Thread | 1/2-28 tpi, 9/16-24 tpi, 5/8-24 tpi |
| Finish | Stainless, Bead Blast, Cerakote |
| Cerakote Color | None, keep it stainless, Cerakote Black, Cerakote Tungsten, Cerakote OD Green, Cerakote Sniper Gray, Cerakote FDE, Cerakote Copper Brown, Cerakote Midnight Bronze, Cerakote Coyote Tan, Cerakote Burnt Bronze, Cerakote Titanium, Cerakote Disruptive Gray, Cerakote Copper Bronze, Cerakote Swamp Rat, Cerakote Gun Metal Bronze |
Only logged in customers who have purchased this product may leave a review.