2023 HIGH DESERT HUNTER – Individual Competitors Registration
2023 HIGH DESERT HUNTER – Team Competitors Registration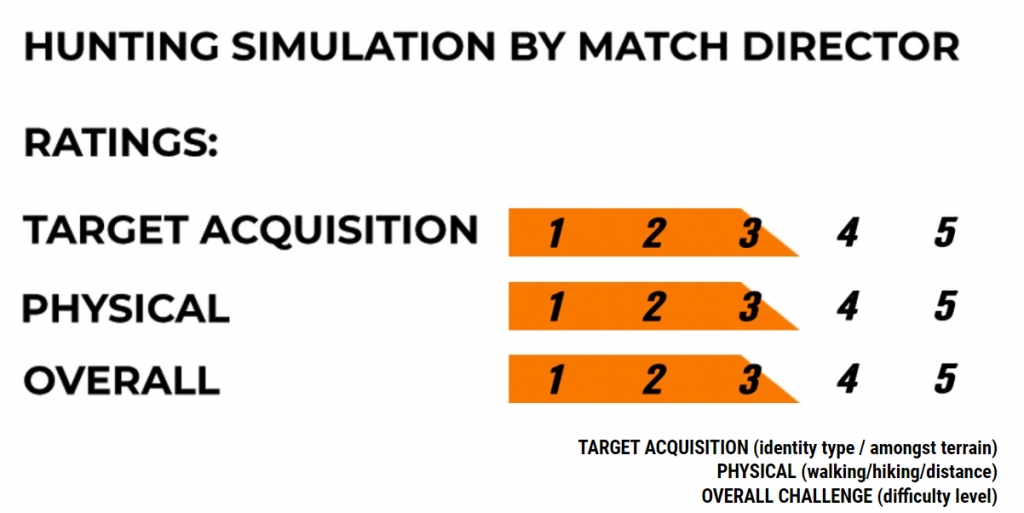 MDs: Eric Andersen and Gabriel Ibarra
Cost: $175 Skills, $275 Individual, $550 for teams
Range Location: Buckskin Hills Shooting Complex (Diamond Mountain Rd., Vernal, UT 84078)
Welcome to the 2023 NRL Hunter Season! Challenge yourself in the High Desert of Northeast Utah to hunt targets in a desert climate and enjoy the views of Blue Mountain, Diamond Mountain, and High Uintah Mountains that surrounds the area. Northeast Utah is inhabited by Mule Deer, Elk, Big Horn Sheep, Bears, Coyotes, Bobcats, Prairie Dogs, Rabbits, Mountain Lions, and Foxes. Be sure to take a trip to the Dinosaur Museum and Dinosaur National Monument because this is what this area is known for.
This hunter experience includes sage brush terrain around the staging areas and targets amongst limited number of cedars; be sure to look in all the drainages, as this range has a lot of them. We recommend bringing good, warm boots for the March weather. It could be cold and sometimes a little muddy.
This hunting simulated event will consist of 20 stages, so prepare accordingly. Round count will be 80-160 rounds, depending on your skill level completing each stage with either 1st round impacts, vs misses/2nd round impacts, but bring extra for getting velocity/PF for your tiebreaker, and zero'ing your rifle. The average target distance will 450 yards, but expect anywhere from approximately 150-980 yards.
We are hunting from a ridge top and throughout two draws. The course of fire spreads 300 degrees over 20 stages; this is rare amongst most ranges to have this spread. The stages will stretch over ~3/4 of a mile.
On check-in day, there will be a 100 yd range available, which will be located near the parking lot area, along with targets out to 1100 yds for checking dope.
You will have access to your vehicle for the entire experience in the parking area near the safety brief area and restroom. Water and Snacks will be provided throughout the day, and lunch will be served on-the-go.
COMPLIMENTARY YOUNG GUN SLOT available per a paid adult match fee. Please email brittney@nrlhunter.org with Subject Line: "2023 High Desert Hunter – 1 Young Gun Slot", and in the description please provide the following: 1. the Order # of the paid adult slot, 2. Name of the Parent/Guardian responsible for the Young Gun, 3. the Name of the Young Gun, 4. the intended Rifle Division (Factory, Open Light, Open Heavy) for the Young Gun.
SEEKING ROs:
If you're interested in ROing this event, please submit to the following RO Application: bit.ly/High-Desert-Hunter_2023ROApplication. Anyone may apply, however, space is limited and not guaranteed.
To help us reward quality ROs during the 2-day event, vetted individuals will be offered a complimentary slot for an opportunity to complete all stages in 1-day timeframe (on the RO Shoot Day). This will be for points amongst the other hunters and for prize eligibility. The opportunity at this is set to take place on the competitor Check-in Day.
–
Social
When sharing images of your pre- or post-event experience, please utilize hashtags #HighDesertHunter #BlueMountainPrecision #UBRC #NRLHunter #EveryEthicalEdge
THURSDAY, MARCH 16TH
4PM-6PM: RO Sight-in and for early bird hunters who get in town early
FRIDAY, MARCH 17TH
RO SHOOT DAY
Early Morning ROs may check zero at 100 yds before or after RO safety brief.
6:45AM – RO Mandatory Safety Briefing
7:00AM – RO Shoot Day (for NRL Hunter points & prizes amongst other hunters)
Lunch provided on-the-go for ROs who are shooting
4:00PM – RO weigh-in/velocity PF mandatory immediately after completion of course in the other hunter sight-in area, on the way into the range, under rooftop.
HUNTER CHECK-IN DAY
1:00PM-5:00PM: Hunter Check-in/Weigh-in/Velocity PF/100 yd Zero Range/Some Steel Targets out to distance
1:00PM-5:00PM: Vendor Day
4:00PM-5:00PM: Side Matches
SATURDAY, MARCH 18TH
6:45AM – Hunters' Mandatory Safety Brief
7:15AM – Hunters to Stages
7:30AM – Intended time to begin hunting steel (12 Stages)
~11:00AM/12:00PM: Lunch Provided (on-the-go)
3:00PM: Intended Completion for Day 1
5:00PM: Community Gathering at Swains Brothers' "Private Room" for food and spirits. BMP will cover the beer. Restaurant/Brew House address: 29 S. Vernal Ave., Vernal, UT 84078
SUNDAY, MARCH 19TH
6:45AM – Hunters on Stages
7:00AM – Intended time to begin hunting steel (8 Stages)
Snacks/Water during the morning
1:00PM: Intended Completion for Day 2 Awards begin immediately after match completion at the Uintah County Conference Center. Awards Ceremony Address: 313 E. 200 S., Vernal, UT 84078
On-site enjoyment of BBQ by the famous Sloppy Pig restaurant & smoke house
OUR SPONSORS: